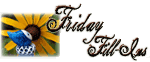 1. My back
aches most of the time. Need to do some exercise and get Calcuim vitamins.
2. I
don't think I've ever been
wild.
3. Leaves are falling all around,
in the front of our apartment and obviously we need some cleaning.
4.
I so dislike someone (especially my hubby) when he is into
forgetfulness.
5. Healing is
from within
.
6.
Playing Luxor
is what I've been up to lately!
7. And as for the weekend, tonight I'm looking forward to
attending the prayer meeting
, tomorrow my plans include
sleeping late but that's gonna be plans only because I have to go to work
and Sunday, I want to
visit my two nephews in San Mateo, Rizal!